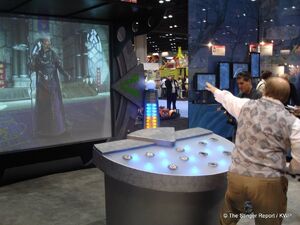 Xavier is a MagiQuest character who is mentioned only in game. His only playable encounter was at a industry convention called IAAPA. When you finish the
Master Magi
quest and go back to the
Stone Circle
,
Carren
comes on screen and congratulates you. She introduces herself as the daughter of Xavier, the outcast brother of the
Questmaster
. How he became an outcast is currently known is because he was trying to steal the want that Questmaster had inherited from his father a long time ago. Xavier seeks to return from exile and take revenge against the
council of Master Magi.
Xavier is the true main antagonist of Magiquest.
Ad blocker interference detected!
Wikia is a free-to-use site that makes money from advertising. We have a modified experience for viewers using ad blockers

Wikia is not accessible if you've made further modifications. Remove the custom ad blocker rule(s) and the page will load as expected.