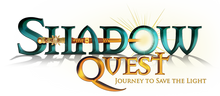 ShadowQuest is a new quest added to the existing MagiQuest game. The goal of ShadowQuest is to investigate the reason the light is disappearing and to defeat the mastermind behind it.
Created by Great Wolf Lodge as a test of their new system for MagiQuest 2.0. This involved many new characters, which does not include any previously recorded video, but uses the game engine Unity to create 3-D animated characters you will see. ShadowQuest includes ten runes and one main adventure, which differs from the regular pattern defeats. Instead, players must see what the opponent is doing and counter attack accordingly, creating a different game sequence each time.
Ad blocker interference detected!
Wikia is a free-to-use site that makes money from advertising. We have a modified experience for viewers using ad blockers

Wikia is not accessible if you've made further modifications. Remove the custom ad blocker rule(s) and the page will load as expected.