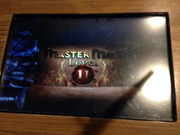 The Mason, Ohio location is located within the Great Wolf Lodge. The game area uses the top 3 levels of the hotel including one hall of the 2nd floor, and two hallways and the lobby of both the third and fourth floors.
Game Areas:
Edit
Second Floor
Lobby (Bonus Items only, not necessary to the game)
Third Floor
Shadow Quest Battle Station
Quest Trees
Fourth Floor
Pixie/Princess Tree House

Available Quests: (In 'Ancient Book of Wisdom's' recomended order)
Edit
Master Magi Rune Quest Part one and two
Available Adventures:
Edit
Add On Games:
Edit
Ad blocker interference detected!
Wikia is a free-to-use site that makes money from advertising. We have a modified experience for viewers using ad blockers

Wikia is not accessible if you've made further modifications. Remove the custom ad blocker rule(s) and the page will load as expected.